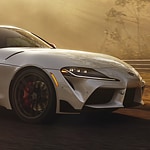 The Toyota GR Supra is one-of-a-kind. After taking a 20-year hiatus, the sports coupe is back with a better engine and overall sportier build. In addition, BMW teamed up with Toyota to deliver an incredible six-cylinder inline twin-turbo engine. The latest version has more performance than ever and delivers 335 horsepower. With agile, smooth handling and amazing controls, you can take on any challenge in the GR Supra.
The powerful engine in the GR Supra is just the beginning of the fun you'll have driving this sports coupe. It's been fully redesigned and offers an amazing fuel economy for a six-cylinder. You'll get 31 mpg on the highway with a rear-wheel drivetrain and multiple driving modes. In addition, the GR Supra gets a top speed of 155 mph and goes from 0 to 60 mph in 4.1 seconds.
Isn't it time to experience the sportiest Toyota on the market? You can test drive the newest GR Supra at Gateway Toyota located in Toms River.