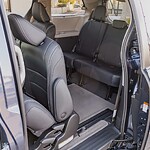 The Toyota Sienna does not hold back when it comes to all things comfort. Most people are eager to get as much comfort out of their vehicle as they possibly can. The Toyota Sienna puts things in such as the Smart Key System that allows the driver to open his or her vehicle without necessarily having the keys directly in their hands. This is super helpful when carrying in groceries or a sleeping child for example.
There is an entertainment system that plays Blu-Ray movies is another part of the Toyota Sienna that comes standard and plays a big role in keeping children in the passenger's seats occupied while going anywhere at all. That is certainly important for a lot of parents!
If you are the kind of person who doesn't want to sacrifice anything on comfort, then you need to get the Toyota Sienna in your life as soon as you possibly can.